Whether you are a Sex And The City fan or not, we all learned a few things about men, dating and life in general from the iconic series.
Here are 10 things Sex And The City tought us about life.
You aren't always meant to end up with your crush! If there is one thing

Carrie Bradshaw

 has taught us about dating, then it must be that "Bigger isn't always better". The one true love Carrie could never keep her hands from was her Mr. Big. This relationship was very toxic for  them and whenever they got back together they always ended it. From living her with a note on the bed to living here at the altar. Are you in a toxic relationship? It might be time to end it!
2. Boys come and go, friends will always be there! Miranda, Carrie, Samantha and Charlotte always meet up at a restaurant or cocktail bar whenever they need to talk about their lives, men or sex. If you are having a bad day arrange a night out with your friends or complimentary drinks. If there is one thing the new yorkers have taught us is that a glass with alcohol always helps!
3. You can be happily single! Not everyone finds their soulmate in life, you can still be single and enjoy life, you don't need a man to feel successful!
4. Every girl should have a gay best friend! Carrie Bradshaw does not only have her 3 best friends, she also has her gay best friend which is always helping her with everything from male function crisis to picking the right outfit for a night out. We all know that not every heterosexual guy, have exceptional taste when it comes to fashion. So if you know someone that is gay and have great taste, take him with you on shopping!
5. It's okay to be alone a Friday evening! You don't always need to dress up and buy drinks every Friday. Put on a good movie, order Chinese takeaway and enjoy your own company. Even the most successful person takes a break now and then, you deserve it!
6. Out with the old, in with the new! Even wardrobes can get too much love sometimes. Carrie showed us how you can throw away half of your closet and still feel like you have enough. Spend some time organizing your wardrobe, even bring your friends over to help you! Toss or take?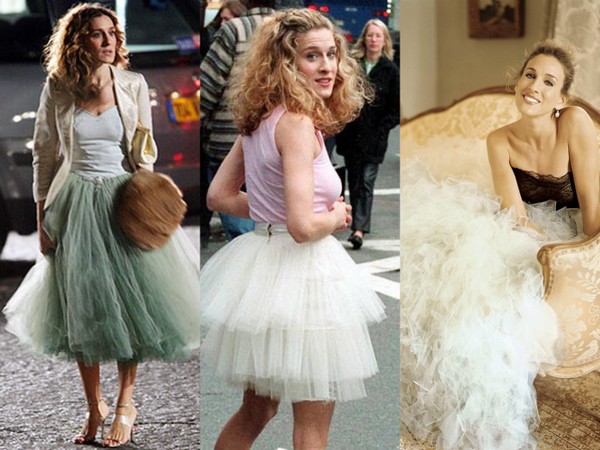 7. You can wear a tutu and still look fabulous! One of Carrie's most famous styles is the tutu that she was wearing in sex and the city. The signature look of Carrie Bradshaw is actually a bin bargain. She actually paid $5 for the tutu! Who knew?
 8. Every squad should have a redhead! Miranda which is the red head in sex and the city, does always have something sensible and smart to say. Whenever you feel down or have done something stupid in life, Miranda will be there with her advice and Chinese takeaway! Did you even know that Miranda is actually blonde in real life?  
9. It's okay to put yourself first! Sometimes in life, you need to think about yourself and your needs. You can't please everyone and if there is something that feels right, do it! Don't feel like hanging with the girls or your date a Saturday evening? Your health and body comes first! Let them know, I am sure they will forgive you!
10. Getaways make life better! Arrange a getaway with your friends for the weekend. Tanning and relaxing in the sun does you good and makes you feel refreshed and ready for another week! Who wants to go to Spain?
Follow