Jumper dresses are statement pieces that have the power to make you look like a style icon, when in reality you put zero effort into your look. They are quick pieces and simple to pull together and they look super stylish and importantly, they're super comfortable. You can go far with comfort!
My collection of jumper dresses is slowly growing and my collection has now reached an impressive 3, considering they're all black. I feel like black is such a safe color to wear all year round because you can style it with pastels for the spring, bold colors for the summer. It is THE perfect color to wear in Autumn and Winter. Not to mention it is a very slimming color!
Here are some examples of some gorgeous jumper dresses I'm waiting to get my hands on:
Shop here 
Shop here
Shop here 
My Style
My three jumper dresses are all different because I think it is important to have a variety of items. With different styles you have the tools to branch off into different styles of fashion depending on the current trends.
Feel free to follow me on my instagram here  
The first jumper dress I bought was back in 2013 while I was working for Dorothy Perkins, and surprise surprise, this jumper dress is from there. It is a simple long sleeve knitted tunic that goes with near enough everything. It is very soft, nicely fitted but it does slightly ride up at the back when I walk.
I wasn't able to find one that was remotely similar to the one I own but I did find this adorable black knitted dress from Pretty Little Thing that I would style with a pair of nude lace up boots and a nude handbag (with gold accessories of course.)
Shop here
My second dress is this beautiful steal that I bought at #TheBloggersMarket for only £1! That's right, £1, I know, best bargain ever right? This was not worn and brand new with tags so to get this for £1 I was very chuffed.
The choker trend is going to carry on throughout Spring, Summer and hopefully through to Autumn and Winter as well because I love the look. This is a very lightweight knit with a v neck cut which is very nice for a night out for cocktails with the girls or for a date night. It's very flattering, looks amazing with heels or trainers and I can't wait to wear this out.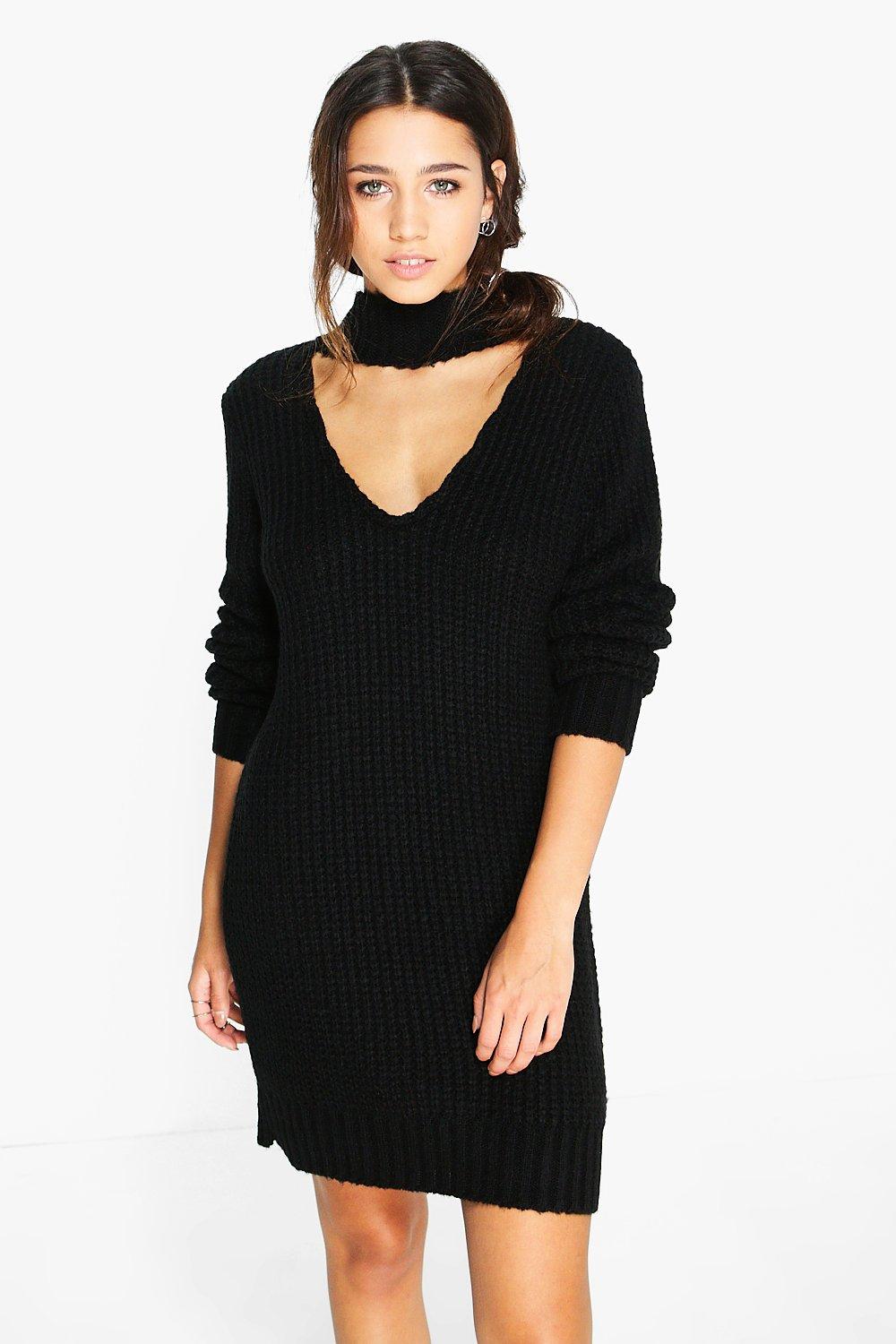 Shop here
Finally, my last jumper dress is possibly my favourite. This one is a little bit more fun and is the more casual out of the 3. The slogan "never drinking again" is quite fitting for a student such as myself because I live for the evenings where I can have a glass of wine.
This jumper dress is slouchy and oversize which is ideal for comfort and a casual look. It cinches in at the bottom to give you some shape which is so flattering and prevents it from blowing up in the wind.
Shop here
The black and white dress is out of stock but there is still a khaki and black one on the website if you desperately want one!
How do you style the trend?
Follow